Windows Installation
Verify that your computer is running Windows 7, 8, 8.1 or 10.
Run the installer.
IMPORTANT: For best results with the Propeller C Tutorials, accept all defaults including driver installation.
Restart your computer once the installation has completed, before connecting your board.

Connect your Board & Run a Test Program
Run SimpleIDE.
Allow SimpleIDE to create a workspace (if prompted).
Connect your Propeller Activity Board or other Propeller board to your computer's USB port with a USB A to Mini-B cable or USB A to Micro-B cable.
Wait for your computer to detect and display a COM port for your board (upper right corner of SimpleIDE window).
If your Propeller board is not USB-powered, connect a power supply now. If your Propeller board has a power switch, turn it on.
3-position Switch
If your board has a 3-position switch, you can set it to 1 or 2. 1 will power the microcontroller and the sockets alongside the white breadboard. 2 will also power the 3-pin headers above the breadboard.
Click the Run with Terminal button, and verify that the "Hello!" message appears.
You should update your Learn folder to ensure you're using the most up-to-date libraries and code. Please go to Update Your Learn Folder for instructions on how to update.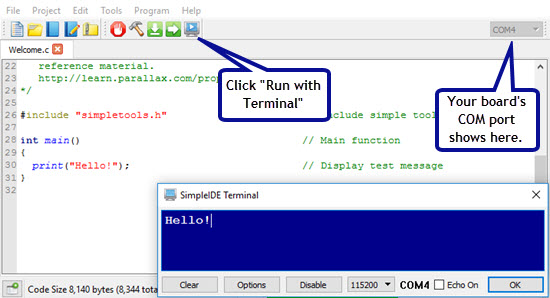 Need help? Email support@parallax.com, visit the Learn Forum.
Found a bug? Please report it to the SimpleIDE Open Source Project site's Issues page.